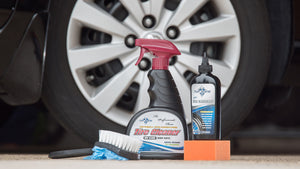 Tuf Shine Tire Dressing

Today, we're going to test a new product we've just recently added to our catalog, our Tuf Shine Tire Appearance Kit. The kit comes with the five items listed below. While each of these items can be bought separately, the full kit is the most economical way to go, especially for first time users. 
Tire Clearcoat (6 oz. bottle)
Tire Cleaner (22 oz. bottle)
Applicator Sponge
Tire Brush
Pair of Nitrile Gloves
The Before
We had one of our long-time customers bring in their car for this demo. The set of tires on this car have about 30,000 miles on them, so we'll really be able to see the difference before and after applying the Tuf Shine dressing.

Before we start, we want to talk a little bit about why we like Tuf Shine products and how this company has differentiated themselves from the competition. The number one reason we recommend Tuf Shine is for the long-lasting effect of the dressing, even with repeated high pressure washings. That's less time you'll need to spend keeping your tires looking great. While there are other products on the market that can help your tires look good, most of those products are designed to lubricate the rubber. This lubrication wears off over time and you'll need to constantly clean and reapply to keep the slick new look. Additionally, constantly cleaning with harsh chemicals can remove factory lubricants built into the tire's sidewalls and as a result can cause dry cracks to appear. 
With that said, let's get started!
Step 1. Cleaning
Our first—and arguably most important—step in the process is cleaning the tires. Because Tuf Shine Clearcoat will not stick to silicone, using Tuf Shine Tire Cleaner to properly clean the tires before application of Clearcoat is imperative. Tuf Shine Tire Cleaner is specially formulated to remove silicone dressings and road grime. Even new tires must be cleaned to remove factory mold release agents.
Note:
Do not clean tires in direct sunlight or when tires are hot. Also, do not let the Tire Cleaner dry on wheels or paint.


Caution: Tire Cleaner may stain bare aluminum, so test a small area first.
To apply the Tire Cleaner, spray on the dry tire and allow it to sit for 60 seconds.
Wet the Tuf Shine Tire Brush with a hose and scrub the tire, especially around raised letters and grooves.
Scrub in the direction of ribbing and around raised letters, and then again 90 degrees to the ribbing.
Rinse brush thoroughly after each scrubbing with a direct stream of water from the hose. Do not rinse the brush in a bucket filled with water as silicone residue will contaminate the water and will be transferred back onto the tire.
Step 2. Repeat
Repeat this process a second time, or as needed, until suds appear white. This indicates that the tire is thoroughly cleaned and prepared for the Tuf Shine Tire Clearcoat. 
The tire should be clean and a dull black. Whitewalls/letters should be bright white before applying Clearcoat.
Note:
 

Tuf Shine Tire Cleaner is only required for initial cleaning. Once Tire Clearcoat is applied, mild soap and water is all that is needed to clean tires prior to any additional coats.


Step 3. Apply Clearcoat
Now that the tires are clean, wait for them to be cool and dry, again not working in direct sunlight or in cold temperatures below 50 degrees. 
Shake the contents of the 
Tuf Shine Tire Clearcoat bottle and squirt a small amount onto the applicator sponge. Using the sponge, apply to whitewalls and raised letters first. Allow at least 5 minutes for the first coat to dry, which will seal the white areas. 

Then, apply a thin even coat to the rest of the tire following the circular pattern of the tire. Slight milky build-up is okay, but make sure to smooth any runs. The product will dry clear. If any black residue is accidentally drawn onto white areas, wipe immediately with a clean damp towel.
Step 4. Dry and Repeat
Allow to dry at least 5 minutes between coats. Liberally apply 2nd and 3rd coats to enhance the shine. As many as 4 coats can be applied for maximum shine. Touch up scuff marks to restore the shine.
Note: Tuf Shine Clearcoat is permanent, so make sure to wipe any residue from the wheels and/or paint surface before it dries.
Rinse the applicator sponge with water and keep for future use.
Enjoy your better than new looking tires!

Maintenance
To prolong the finish, use clear water and a soft brush for future touch ups. Mild soap and water can also be used for heavier dirt and mud, but avoid using heavy chemical cleaners as they will dull the finish.
Re-apply Tuf Shine Clearcoat as needed. Remember, Tire Cleaner is only required before the initial application of Clearcoat.
Now that we've shown you the steps, grab your Tuf Shine Tire Appearance Kit today and keep your tires squeaky clean. 
---